Purchasing your first home is a huge financial undertaking, but it doesn't have to be a daunting task. Whether you are in the market for a new home or simply interested in learning more about the home buying process, we're here to answer any questions you may have.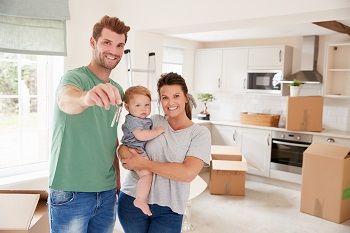 To help, here are eight commonly asked questions for first-time homebuyers:
1. Can I buy a home without a down payment?
Yes. If you're struggling to come up with the funds for a down payment, you may qualify for a zero-down, government-backed loan. One option is a USDA loan, which helps low-to-moderate income households purchase, repair, or renovate properties. To qualify, you must have an income below 80% of the median income in your area, you must buy a home located in an eligible rural area, and prove that you are able to afford the monthly mortgage payments, as well as any taxes and insurance.
If you have served or are presently serving in the U.S. military, or you are the spouse of a service member, you may also qualify for a VA loan. Like USDA loans, VA loans require no down payment and flexible terms. In addition, they don't require that you buy private mortgage insurance, which means you could save hundreds of dollars each month.
2. If I don't qualify for a zero-down mortgage, are there any cost-effective alternatives?
Yes. If you don't qualify for a zero-down loan, an FHA loan may also be a viable option for you as they offer low down payment options and a lower minimum credit score limit (500 minimum). These loans only require a 3.5% down payment, which is typically much lower than conventional home loans.
Some private lenders do offer conventional loans with down payments as low as 3%. However, borrowers should expect to pay for origination fees, mortgage insurance, and appraisal fees, which all raise the out-of-pocket cost at closing. In addition, they also tend to carry higher interest rates compared to other types of loans.
3. If I qualify for a no-down loan, are there other things I need to pay for?
Yes. Though no-down mortgages don't require a down payment, you should still expect to pay some money out-of-pocket to cover closing and moving costs, as well as title and origination fees. Remember that, even though both types of loans allow sellers to pay at least a portion of the closing costs, this is not required of them.
The USDA and Veteran's Administration also charge nominal fees to support the programs for future homeowners. However, you may be able to roll these fees into your monthly installments. Before closing on a home, make sure you are aware of all costs for which you are responsible to avoid sticker shock.
4. How much should I save before buying a home?
It depends. Depending on how you choose to finance your home, you'll likely need to put down a sizable amount when closing on a property. However, becoming a homeowner requires more than the initial down payment. You should also expect to incur closing costs (1% to 5% of the purchase price), moving expenses, prepaid expenses, utility adjustments, and repairs and maintenance.
While there is no specific amount you will need, saving for a higher down payment may help lower monthly expenses and APR. You can use your initial down payment to set a baseline for your budget and then factor in all other costs to determine how much cash you'll actually need to close on your home.
5. What credit score do I need to be pre-approved for a mortgage?
620+. In order to be preapproved for a mortgage, most lenders require you to have a FICO credit score of at least 620. If your score falls below this threshold, you may want to raise it before applying for a mortgage. You can boost your score by paying off any outstanding debt, keeping up on existing payments, saving for a down payment, or by participating in a first-time buyer program.
As a general rule, the higher your score, the higher your chances of getting pre-approved. However, there are alternatives, such as down payment assistance programs and grants, for prospective buyers who have poor credit.
6. How much can I borrow from the bank to buy a home?
It depends. Most mortgage lenders and banks are willing to work with you to secure a loan for a home. The actual amount of your mortgage will depend on factors like your annual income, expected loan term and interest rate, as well as your monthly obligations, such as credit card debts, car payments, and other home-related expenses.
Taking these factors into account, you should have a better idea of how much you are able to borrow. Typically, lenders won't allow your monthly housing payments to exceed 28% of your income. However, you shouldn't stretch your budget too thin should the approved amount be more than you can comfortably afford.
7. Do banks charge a fee for a pre-approval document?
Sometimes. Some lenders waive application fees in efforts to entice and earn the trust of borrowers while others charge fees for when you submit your application paperwork. These fees may run anywhere between $150 and $400 and are sometimes non-refundable.
In addition, pre-approval may require an appointment during which they check your credit and review your financial documents. Fees may be collected at this time as well, so be sure to check with the lender to confirm what fees you'll incur.
8. Should I work with a broker or apply directly to a bank?
It depends. Working with a bank may be more time-efficient since you're dealing with the lender directly. In addition, if you've already built a relationship with a specific bank or have already paid off a loan from one in the past, you may be able to secure favorable loan terms without needing to shop around.
If you'd rather avoid the hassle of reaching out to several institutions, you may want to work with a broker who could serve as a middleman throughout the process. Mortgage brokers are able to prepare your application, compare several lender options, and typically have access to more loan products and types. The tradeoff here would be a more personalized experience in exchange for a lengthier closing.
As you kick off the home buying process, be sure to keep these financial considerations top-of-mind. Work with a trusted realtor to find your dream home and determine the best financing solution for your needs.