Here's a list of 11 Best Places to Live in the Tampa Bay area, based on residents' comments on online forums and blogposts.
They've lived there, and in other places, so they know.
The choice of where to live ultimately depend on priorities, mostly current priorities. Young professionals and couples without children prefer urban work-live-and-play places while young families put good schools over other criteria. Many retirees prefer neighborhoods near the beaches and entertainment centers. Some couples put premium on places that are quaint, bohemian or unique. Others have specific requirements such as golf courses, boat docks and horse ranches.
Here are their choices:
HONORABLE MENTIONS:
.Safety Harbor in Pinellas for its quaint and artsy character and tight-knit community feel
.Odessa for those who like horses and ranch houses
.Riverview for its its nice neighborhoods and central location in relation to Tampa, St. Pete and Sarasota and for its proximity to the Amazon fulfillment center being built
.Belleair for its pretty views and easy access to Sand Key, Clearwater Beach, sailing, fishing and golfing places
.Seminole Heights for its bohemian feel
THE 11 BEST PLACES:
11.  WESTCHASE
Residents note that Westchase is closer to the beaches compared to New Tampa
and Wesley Chapel. They also mention the high ratings of Sickles High School.
10. FISHHAWK
Residents claim they have the best suburban schools. And of course, they're
proud of their town center, aqua park, skateboard park, clubhouses, playgrounds, sports facilities, shops, nature parks and trails, and other advantages common to large master-planned communities.
9. APOLLO BEACH
Many younger retirees love the resort-feel of Mirabay while others like the newer homes available at Waterset and the usual amenities offered at master-planned communities like parks, open spaces, pools, nature trails, fishing ponds and playgrounds and club facilities.
8. SEMINOLE in PINELLAS
Families like Seminole's higher-ground location, which makes it almost flood free. It's close to beaches and commercial centers and nearer to St. Pete than other good areas like Safety Harbor. Seminole schools are also highly rated, one of which is Osceola Fundamental High.
Residents love the Seminole Park, Pinellas Trail, libraries, sports facilities, sidewalks, other parks and lots of free programs for kids.
7. PALM HARBOR
Families with young children like Palm Harbor for its great-looking subdivisions, excellent schools and its nearness to Honeymoon Island, Caladesi Island and Clearwater Beach.
Palm Harbor University High School is a nationally ranked school by US News and World report and is ranked 6th in the state of Florida
6. DUNEDIN
Many retirees and snowbirds say they love Dunedin. They like the small-town vibe, the small shops, antique shops, local restaurants, bars, art markets, small businesses, music fests, free film shows and dog-friendly atmosphere.
Families also like that they just have a short drive to Top-List beaches Honeymoon State Park and Caldesi.
They also cite the Pinellas Trail, a long greenspace for biking, walking, jogging, running and skating that runs from St. Petersburg to Tarpon Springs and passes through Dunedin.
5. LAND O' LAKES/LUTZ
Families say they like Land O' Lakes as communities here, with lots of nature
parks, nurture social ties among families.
Wilderness Lake Reserve is often mentioned by residents who are Facebook users. They regularly post photos about their families and kids enjoying events and having fun at their Lodge center. Some cite the A rating of their high school and the high ratings of their middle and grammar schools.
4. DOWNTOWN ST. PETERSBURG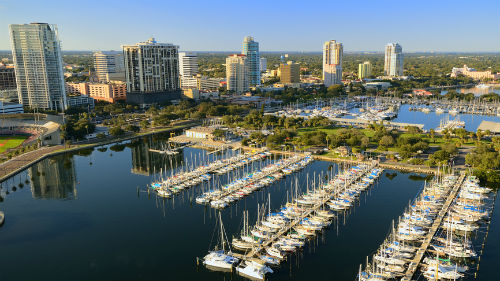 Young professionals here also mention the live-work-and-play advantage. Many residents claim that their downtown is livelier than Tampa's because of lots of pubs, live music venues, shops, museums, waterfront parks, theaters, bars, live music, restaurants, shows, hotels and nice waterfront views.
They also cite their two college campuses and their 1917 Open Air Post Office, the wedding-cake Mediterranean Revival architecture of the 1926 Snell Arcade
3. DOWNTOWN TAMPA
People mention downtown Tampa's job opportunities, its closeness to Orlando, and the two sports teams as Tampa's advantages over downtown St. Pete.Entertainment centers also abound, including the Straz Center, Curtis Hixon Waterfront Park, Tampa Theatre, Tampa Bay Times Forum, Florida Aquarium, Lykes Gaslight Park and Tampa Riverwalk.
2. NEW TAMPA/WESLEY CHAPEL
Residents like New Tampa's master-planned communities, newer homes and
highly-rated elementary schools. They know that New Tampa is farther away
from the beaches, but they feel that bigger open spaces, trees, ponds, lakes
and parks are a better replacement. Anyway, they can always drive to the
beaches.
Families in the master-planned community Hunter's Green mention that their kids play freely with other kids on their streets.
One of the big things that are getting residents excited is the planned building of the first-ever Crystal Lagoons in the U.S. in Wesley Chapel.  These are mega-sized crystal-clear swimming pools that have been built in many countries, and they use technology that make the pools eco-friendly and sustainable.
1. SOUTH TAMPA
The live-work-play concept is alive here, and this is what young professionals and couples often mention. In places like Hyde Park, SOHO, Palma Ceia, Bayshore Boulevard, Channelside, Bayshore Beautiful, Culbreath Isles and Beach Park, one's home and office are surrounded by shops, farmer's markets, the best restaurants in Tampa Bay, and other afterwork venues that give a great night life.
Downtown Tampa is also just nearby. Residents of Davis Islands and Harbour Island, among the many high-end neighborhoods in South Tampa, can walk to waterfront parks, entertainment venues and restaurants.
People also mention the world-famous Bayshore Boulevard which is just a few walk for many and the area's Plant High School and Robinson High School, public high schools recognized as two of the best high schools in the U.S.
High home costs in South Tampa, however, are often mentioned by commenters.