Do you know what your city was named after?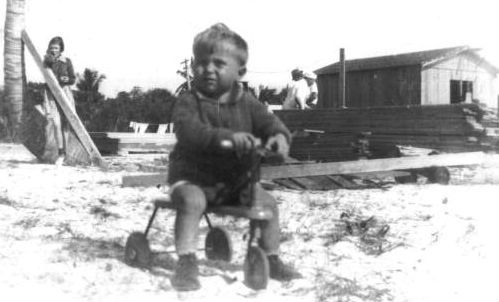 Here are popular Tampa Bay cities and counties named after persons:
1.  BRANDON
Brandon was named in honor of John William Brandon, a family man who left Mississippi in 1857 and finally settled in what was then called New Hope after homesteading 160 acres and an additional 500 acres a few years after.   New Hope was renamed Brandon in 1890 by a Florida Central and Peninsula Railroad engineer in recognition of John Brandon and second wife Victoria Brandon's land donations and efforts for the community.
2.  BROOKSVILLE
Brooksville was officially renamed in 1871 by the residents of Hernando County to honor Preston Brooks, a U.S. Representative from South Carolina, who in 1856 in the U.S. Senate hit Massachusetts Senator Charles Sumner with his cane to deliver his message.  Brooks advocated states' rights and showed a strong sense of fair play.
3.  DADE CITY
Dade City was named after Major Francis Langhorne Dade, a member of the 4th U.S. Infantry, who was killed in 1835, along with 107 fellow soldiers, on their way from Tampa to Ocala, in the First Seminole War.
The original name of the city was Fort Dade, the name of the military installation Fort Dade, which was built one year after Dade and his men were killed, and named in honor of Major Dade.
4.  DAVIS ISLANDS
Davis Islands was created in the 1920s by developer David P. Davis, a Tampa native, who named the islands himself using his surname.  Davis implemented the idea conceived by Temple Terrace developer Burks E. Hammer of turning the mud flats in Hillsborough Bay into an impressive island development.
Davis expanded three small natural islands at the mouth of the Hillsborough River by building up from sand dredged from the bottom of the Hillsborough Bay. Even with non-stop dredging using the largest dredges Davis could find, it took him and his engineers almost four years to complete the island expansion. But on the day the first 306 home lots were offered for sale, many others in long lines were unable to buy as all the home lots were purchased within the first 3 hours.
5.  GIBSONTON
Gibsonton was named in 1895 for James Barney Gibson, Sr., an immigrant from Alabama who homesteaded 150 acres of land along the Alafia River and who became one of the three trustees of a school built in the area in 1888. Gibsonton was a consolidation of the words Gibson Town.
6.  HERNANDO COUNTY
Hernando County was named in 1843 in honor of Hernando De Soto, a 16th-century Spanish explorer who led an exhibition to Florida to find gold.
In 1539, De Soto and his troops and servants landed north of Tampa Bay. They pursued their quest through Florida, Georgia, South Carolina, the Appalachians and Alabama. In 1542 in what is now called Arkansas, on the banks of the Mississippi River, he died of fever without finding the fortune he was searching for.
7.  HILLSBOROUGH COUNTY
Hillsborough was named after Wills Hill, British Secretary of State to the Colonies in the 18th century. During this time, Florida was under the rule of Spain, France, Great Britain and the U.S. In 1821, the U.S. bought Florida from Spain for $5 million, and in 1834,
Hillsborough was established as the 19th county of Florida.
8.  HUDSON
Hudson was named in 1881 after Isaac Washington Hudson by his two sons who were the first postmasters of the city.
9.  LUTZ
Lutz was named after William Lutz, an engineer of the Tampa Northern Railroad and brother of Charles Lutz, who built the Tampa and Gulf Coast Railway, a railroad from Odessa to the Lutz Depot in 1909.
10. and 11.  NEW PORT RICHEY and PORT RICHEY
These two cities were named under their founder, Captain Aaron McLaughlin Richey, who journeyed from Missouri to Florida and settled on the west coast, south of the Pithlachascotee River.
12.  OLDSMAR
Oldsmar was named for Ransom Eli Olds, the inventor of the Oldsmobile and REO cars, who purchased acres of land on the northeastern edge of Pinellas County and founded the town in 1913. Olds originally named the town R.E. Olds-on-the Bay, but he later changed it to Oldsmar.
13.  PASCO COUNTY
Pasco County was named in 1887 for Samuel Pasco, a Florida Representative who was elected to the U.S. Senate that year.
14.  PLANT CITY
Plant City was renamed in 1885 for Henry Bradley Plant, a Florida developer and railroad builder who extended the South Florida Railroad into the area. The city's original name was Ichepucksassa, which led to a lot of confusion because of its difficult spelling and pronunciation.
15. 16. and 17.  REDINGTON BEACH, REDINGTON SHORES and NORTH REDINGTON
These three Redington cities were named for Charles Redington, a developer and road builder who bought in the early 1930s acres of land from Iowa native and Pinellas County landowner David Welch and built the first residence in the area. Redington was an Indiana native who resettled in St. Petersburg.
18.  RUSKIN
Ruskin was named after English social thinker and artist John Ruskin by Ruskin founder George McAnelly Miller. Miller believed in Ruskin's advocacy for social economy and the formation of cooperatives, non-profits and non-governmental organizations.
Ruskin was founded in 1906 as an economically independent community, with the Commongood Society as the residents' cooperative organization and Ruskin College as the community's central feature.
19.  SAN ANTONIO
San Antonio was named in honor of St. Anthony of Padua by Edmund F. Dunne, a former chief justice of the Arizona territory who negotiated a critical land sale by the state of Florida in 1881. Dunne was a Roman Catholic who felt discriminated against by anti-Catholics in Ireland and in Arizona and was looking for a place for Catholics.
Saint Anthony of Padua was a Catholic priest and Franciscan friar. He was born Fernando Martins de Bulhoes in Lisbon, Portugal in 1195 and was canonized in 1232. Many Catholics invoke him for the recovery of lost items.
20.  SEFFNER
Seffner was named in 1887 for Frederick P. Seffner, an immigrant from Ohio who established the area's post office in 1884.
21.  ST. LEO 
The town of St. Leo was named after Pope Saint Leo The Great by Judge Edmund Dunne who settled in the area in 1881 and founded the town.
22.  ST. PETERSBURG
Technically, this Florida city was named after a place, St. Petersburg, Russia, by Peter Demens, a prominent Russian who was exiled and who moved to Florida and founded St. Petersburg in 1888.  Demens was born in another Russian city but got his education in St. Petersburg.
St. Petersburg, Russia was named after a person, the apostle Peter, by Czar Peter the Great, who founded the city in 1703.
23.  TIERRA VERDE
Tierra Verde was named after Detroit builders Hyman and Irving Green who partnered in 1950s with Dr. Bradley Waldron to build up Waldron's three keys into one big island through dredging and filling. Initially, they named their island Green Land, and changed it to Tierra Verde — the Spanish for Green Land or Green Earth — when they proposed a Bayway extension to the Florida Department of Transportation.
24.  WESLEY CHAPEL
Wesley Chapel was named indirectly after John Wesley, an Anglican evangelist and theologian credited with the founding of Methodism. A Methodist chapel was built in the area and settlers began to call the place Wesley or Wesley Chapel, in reference to John Wesley.
One of the original names of the area was Double Branch, named by Thomas Boyette, grandson of Edward Boyette Sr., one of the pioneers of the area.
25.  WIMAUMA
Wimauma was named for the three daughters of Captain C.H. Davis who founded Wimauma in 1902.  His daughters' names were Willie, Maude and Mary, from which Davis took the first letters to form the name Wimauma. Davis and his son-in-law helped build the Seaboard Air Line Railroad through Wimauma to connect Turkey Creek to Bradenton.
A Hillsborough County Historic Resources report says Wimauma is pronounced "Why mama."
26.  YBOR CITY
Ybor City was named for Don Vicente de Ybor, a Spaniard who became a prominent industrialist and cigar manufacturer in Cuba and then in Florida.  He founded Ybor City in 1885.  De Ybor also built in 1895 the original Don Vicente de Ybor Historic Inn along Avenida Republica de Cuba.