A beach can win only once on Dr. Beach's annual America's Best Beach list.  This is to give chances for other beaches to gain the spotlight, Dr. Beach says.
But a past winner can be on Dr. Beach National Winners List every year and continuously gain national spotlight as long it maintains the qualities for which it won in the past.
Dr. Beach's annual list is arguably the most popular Top Beach list as Dr. Beach  (Dr. Stephen P. Leatherman, Director of the Laboratory for Coastal Research at Florida International University)  uses 50 physical factors to grade beaches at their state during the holiday and vacation season.  Among these are smell, noise, local scene, sand color, sand softness, underwater beach slope, longshore current, public safety, noise and amenities.
Here are the 3 Tampa Bay Beaches still on Dr. Beach National Winners List as of 2014:
1.   Fort De Soto Park North Beach, Tierra Verde, Florida    Winner in 2005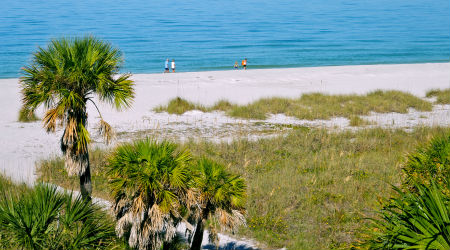 At North Beach, you enjoy nearly 3 miles of beautiful white beach, part of the 7-mile waterfront of the Fort De Soto Park in Tierra Verde, near St. Petersburg.
Other things to enjoy: birds, plants, boat ramp, swim centers, camp ground, picnic grounds, fishing areas, nature trail, museum, dog park, bike and kayak rentals, and canoe trail.
You can also view at the fort a historic 12-inch mortar battery, which is listed on the National Register of Historic Places.
Dr. Beach also ranked Fort De Soto No. 7 in 2000, No. 5 in 2001, No. 4 in 2002 and No. 2 both in 2003 and in 2004.
Fort De Soto Park
3500 Pinellas Bayway S.
Tierra Verde, Florida 33715
727-582-2267
2.  Caladesi Island State Park, Dunedin/Clearwater, Florida      Winner in 2008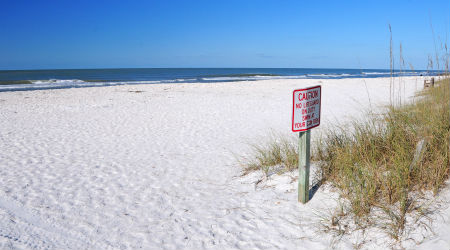 Caladesi is an island that you can reach in 15 minutes by riding a ferry from Honeymoon Island State Park, another island which can be reached by car via the Causeway Boulevard.
Surely, you will be awed by the  powdery soft white sand of the three-mile-long wide beach.
Other things to enjoy: nature trail, kayak trail, picnic shelters, marina, saltwater angling, and boating.
Caladesi was also ranked by Dr. Beach No. 6 in 2000, No. 5 both in 2001 and in 2002, No. 4  both in 2004 and in 2005 and No. 2 both in 2006 and in 2007.
No. 1 Causeway Boulevard
Dunedin, Florida 34698
727-469-5918
3.  Siesta Beach in Sarasota, Florida       Winner in 2011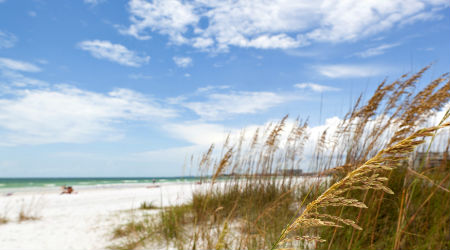 Many claim that Siesta Beach's sand is the whitest, softest and finest in the world.  And indeed, Dr. Beach described the sand as nearly pure quartz crystal.  He also ranked Siesta No. 7 in 2004, No. 10 in 2007, No. 3 in 2008 and No. 2 both in 2009 and in 2010.
You and your children can enjoy the waters as they're warm, the waves are small and the beach slope is gradual.
Siesta was also rated high by users of TripAdvisor.com, ranking 3rd in the site's Travelers' Choice Top 25 Beaches in the United States, 2014
Siesta Beach
948 Beach Road
Siesta Key, Florida 34242
941 349 3800
And if you like to explore more down south, here are No. 2 and No. 10 Best Beach winners located in Naples:
Barefoot Beach, Bonita Springs, Fla.     No. 10 in 2006, No. 6 in 2013, No. 2 in 2014
Delnor-Wiggins Pass State Park, Naples, Florida    No. 10 in 2014